About Lazy T Ranch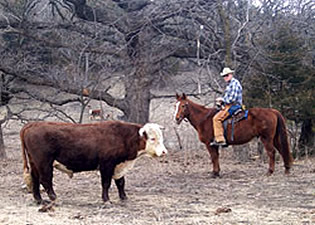 The Lazy T Ranch is a family farm and ranch in the Flint Hills near Manhattan, Kansas.
The ranch was homesteaded in 1855 by Enoch Persons. Five generations of the Persons family lived here until three businessmen bought it in 1958. In 1968, the Wilson family purchased the ranch and has lived here ever since. Open for guests by appointment, this working ranch features historic stone buildings, awesome Flint Hills views, delicious home cooked food, and even cowboy poetry from our resident Cowboy Lariat.
We host many families, travelers, tours, school field trips, international tourists, conferences and groups interested in visiting or having an event in a Flint Hills location.
In 2012, a special couple said they wanted to be married on one of the Lazy T's beautiful hills overlooking the Kansas River and surrounded by Flint Hills. That has led to many weddings throughout the year in various locations on the 400 acres.
Whatever your interest, it is our goal to provide a great experience for you at the Lazy T Ranch!