Fun on the Farm Educational School Tours at Lazy T Ranch
School classes, day cares, home school groups, and families are welcome to visit the ranch by appointment. Rancher Ron will greet the group and share the history of the cowboy and the Lazy T Ranch.
Kids can hold a genuine branding iron and see an authentic longhorn steer head.
Boys and girls love petting our calf, horse, llama, dog, and cat.
Children enjoy having the goats eat feed right from their hands!
Kids can go in the chicken yard and gather eggs for them to keep.
They can walk through the historic Persons stone barn and sit on a milking stool as if they were milking a cow.
The scenic Flint Hills hayrack ride will take them to the top of Sugarloaf Hill, overlooking the Kansas River Valley.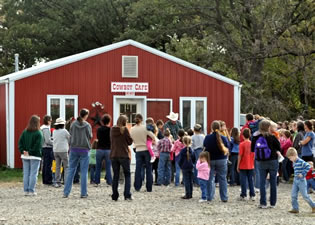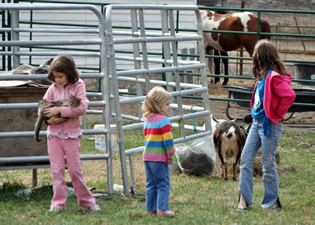 This fun and educational outing can be accomplished in a half-day, with you bringing your lunch or with the Lazy T providing it. Kids will learn about history, Kansas, and where their food comes from.
Admission
$5 per student, sibling, parent, and chaperone. Teachers and paid staff are free with their classes.
Call (785) 539-7899 to make your reservations.