Ron Wilson's Cowboy Poetry
Ron will write a special cowboy poem just for your group or event at the Lazy T Ranch.
Howdy folks, and welcome to our place on the internet.
It tells of how I got the title "Poet Lariat".
To me, this technology is awfully new-fangled,
And I'll admit that cowboy grammar sometimes just gets mangled.
But we love our cowboy poems - that part is surely true,
And we'd be glad to come and say a set of poems for you.
When it comes to fun, a cowboy never fails,
So welcome to our website, and we wish you "Happy Trails!"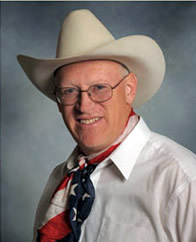 About Ron Wilson – Poet Lariat
In 2003, then Kansas Governor Bill Graves officially proclaimed Ron Wilson to be a Poet Lariat (not laureate) in Kansas. That same year, he won first place at the Kansas Cowboy Symposium in Dodge City. Ron won the Horizon Award from the Academy of Western Artists, Heartland Chapter. He's performed at national and international meetings, published two books and a CD of cowboy poetry, appears regularly in newspapers and radio, and has been featured on RFD-TV.
He's Got a Lot to Say… And You'll Enjoy Listening!
Who is Ron Wilson?
He's been a 4-H member, FFA officer, farm radio broadcaster, college lecturer, Congressional staffer, association executive, rural development director, corporate vice-president, small business co-founder, rodeo ticket-taker, Sunday School teacher, diaper changer, bottle washer, tractor driver, posthole digger, thistle chopper, haybale stacker, fence fixer, calf holder, manure scooper, and a tail twister. He and his wife and kids live on the family ranch near Manhattan, Kansas.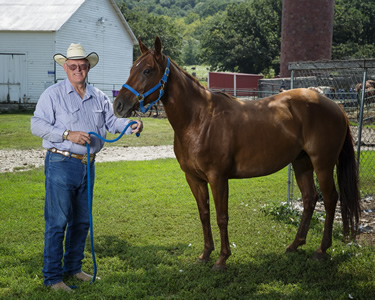 Ron performs his original cowboy poetry in full costume, and he always gets his audience involved. Sometimes, he brings along his loyal and talented sidekicks, Stanley the Steer, and Pete the Possum. The poetry is fun, family-oriented, patriotic, and relates extremely well with agricultural and rural audiences, and most of time, it even rhymes. We invite you to read more, listen to the samples, and schedule Ron to perform at your event.